Marshal Pétain's laws (1940-1943)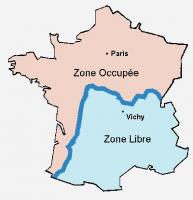 Between 1940 and 1944 northern France was occupied by the Germans and the "free" part, with its capital in Vichy, was a Nazi puppet regime, headed by Marshal Philippe Pétain.
In 1942 the French bishops declared their allegiance to Pétain, urging the French "to have confidence in the Chief of State [and] to obey him". The papal nuncio (the Vatican's ambassador to France) even greeted Pétain as "the man sent by Providence".
Pétain returned the favour by granting the Catholic Church new privileges. These have remained on the statute books and have served as the basis for further erosion of the separation between church and state.